In the Corridors Of…Armis
In a world increasingly driven by technology, the need for engineering software solutions has become paramount. In the middle of this digital landscape, Armis Group has emerged as a beacon of innovation, resilience, and unshakeable commitment focused on developing and implementing ambitious solutions that solve complex challenges.
Founded on the principles of trust, expertise, and relentless pursuit of excellence, Armis Group has been developing Information Technology services customized for each customer, all over the world, during its 18 years of history, in the areas of Transport, Sports, Banking, Health, Telecommunications and Public Administration.
The Birth of a Vision
Armis Group was born in 2005 by Carlos Costa and Nuno Antunes, from a shared vision that built a solid path over the years. Driven by their passion and determination, they embarked on a mission to build an organization that would set new standards of excellence in software engineering.
Forging Unbreakable Trust
At the heart of Armis Group's success is a commitment to trust. Recognizing that trust is the basis of any successful partnership, Armis Group has given priority to building strong relationships with its customers and stakeholders.
With this in mind, at ARMIS, human capital is very valued, where walking through its corridors, you can find a dynamic and motivating work environment that is leading to professional development and progression, and this is part of the company culture that mirrors its success.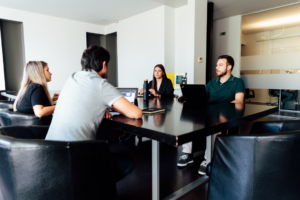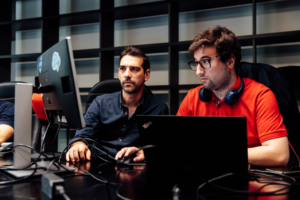 Unleashing Expertise
Armis Group thrives on its diverse technology expertise and committed teams. This, along with its global reach, enables consistent growth, even in times of economic or social crises.
With a diverse background, these professionals work tirelessly to stay ahead of emerging threats and develop innovative solutions. Armis Group's commitment to continuous learning and knowledge sharing, creates a dynamic environment where experts collaborate, challenge the status quo, and push the boundaries of cybersecurity. Their experience serves as a guiding light, empowering organizations to confidently navigate the complex cybersecurity landscape, which Armis has already been awarded Partner of the Year by Microsoft.
Corridors with music
Despite all the success of Armis, technology is not the only area they have embarked on, and we are talking about music. Let's back up a little.
Armis office in Porto leaves us marveling at its rustic appearance. As a true portuense company, they held a curiosity about the walls that house this company, which is that its employees work in a space where once there was a wine cellar. Who doesn't like wine, right?
Modernized nowadays, we feel the technological success from the entrance door, as well as the success of the Armis band, Tweak & Deploy, which involves several of its employees. At lunchtime, we can hear the rehearsals that brighten up every corner of this office.  But they don't stop at rehearsals, for this band has already been present at several music events.
The Roots Of Porto
Since 2018, Armis has been an associate of Porto Tech Hub. Being a company very connected to its roots, which are in Porto, the association to Porto Tech Hub was something that was quite natural.
"We have been reaping the fruits of this participation in the community, with the integration of talent from the SWitCH program, with the sharing of experience and opportunities also with other associates of Porto Tech Hub." as Nuno Antunes says.